My Dad
I know what you're going to say. "Father's day is like six months away. Everyone does that one." I know everyone does this one, but it's true. Since I've cooled down from my early "trad-only" days, I've found that my style is very similar to my dad's. You can see
that in this post
, from when my parents and sister came up for Thanksgiving. We even posed the same (not purposely, honest). The shift really hasn't been noticeable. Until now.
Here are some elements that are similar.
Patterned shirts
My dad and I even own some of the same shirts (mostly tattersall). We also have the same patterns: lots of university stripes, checks, flannel etc. I like solid shirts too, but patterns are awesome.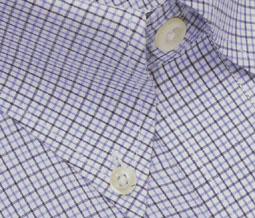 Dark Jeans
My dad has been wearing in a pair of 505's for a few years. He washes his more than I do, and doesn't spend quite as much as I do (or have), but I think his look awesome. I told him once that his fades would get lots of chatter on the denim threads. He looked at me like I was crazy. He's a fan of regular cuts too, which I'm leaning towards again. Still like slim every now and then though.
Nice Shoes
As I mentioned in the previous post, my dad has shoes that he bought before I was born. I've always liked that. He also is almost always in nice shoes when he's out. Either his Rockports, or some kind of boat shoes.
Since I've settled into a more natural style (not as many extremes - trad, workwear, etc. but more a meshing), I've found that I look a lot like my dad. His is obviously more natural (he's never read blogs or forums - except this one - an admittedly poor sample), and mine is a little more forced. But I like the way I'm going.
Conor